Wizly aims to be the Google for entrepreneurs.
Imagine if any professional problem you or your company have could be solved in minutes by connecting you with the right person who has the knowledge or insights for the specific area in real time.
For Puja Bharwani, co-founder of Wizly, there is no such a thing as an insignificant question among entrepreneurs and professionals who constantly need to solve challenges and implement strategies for their businesses to grow. They need a reliable, support platform powered by the right expertise that can help them.
That's how Wizly, a global micro-consulting platform that connects subject matter experts to entrepreneurs and professionals, was born.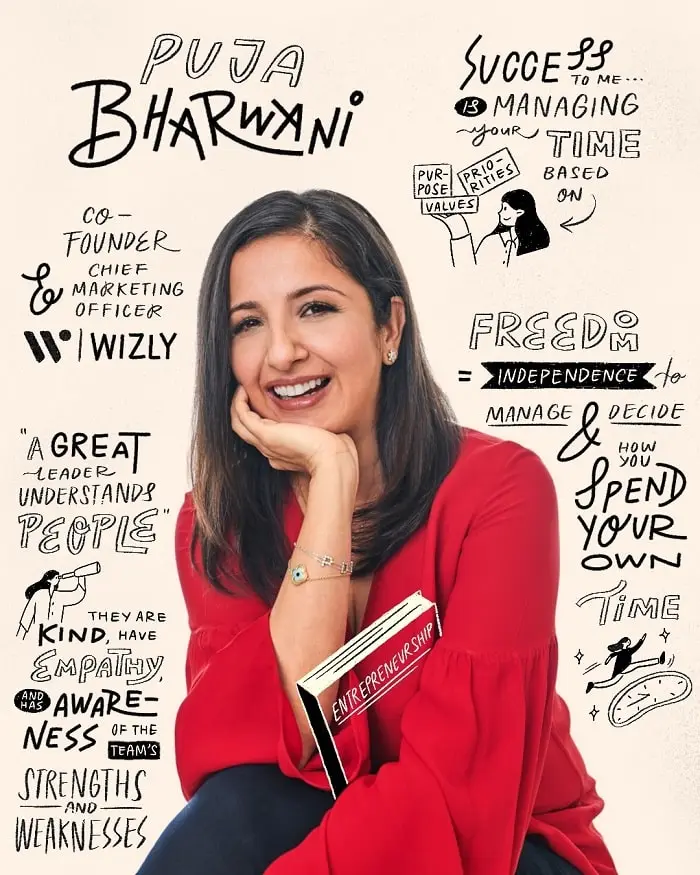 "Entrepreneurs and professionals need answers quickly from reliable sources- a connection or solution that helps them solve business challenges in a verified, structured manner is extremely valuable," says Bharwani.
Bharwani tells Greater how she motivates her growing global team to achieve their mission.
Tell me about Wizly and how it seeks to improve the status quo?
Wizly is the world's micro-consulting platform dedicated to quickly solving short-term business challenges.
We are enabling subject matter experts to become micro-consultants to earn, build a brand and have an impact through the platform. For users, we want to be the go-to place to solve short- term business challenges in a reliable, efficient and cost-efficient manner.
What are your roles and responsibilities within the company?
As the Co-founder and Chief Marketing Officer of Wizly, I manage our community of micro-consultants, growth and communications initiatives.
How has Covid-19 impacted your company, and what measures did you take to rise above the crisis?
Wizly was created during the pandemic, and we have not let anything come in the way of bringing it to life. We officially launched in November 2021.
We have been operating on a hybrid working model from day one. Wizly team members are in six countries and growing. The micro-consultants with whom we partner, are from over 15 counties. Our whole model is built to be able to work from anywhere.
For our team, we have regular one-on-one and team meetings and scheduled in-person off-sites and meet ups.
For our community of users and experts, we organise one-on-one and small meet-ups to ensure we are building a meaningful relationship with them.
What is the biggest takeaway from your experience with the pandemic?
It emphasised that technology and science are the largest enablers for work, communication and life to move on.
A leader can take their business to new heights. What do you think makes a great leader?
A leader's ability to understand employees, customers and investors. Traits such as empathy, kindness and being aware of your team's strengths and weaknesses make great leaders.
What is the biggest mistake you've made in your career and what have you learned from it?
In hindsight, it wasn't a mistake but at that time it did feel like it. I can only look back now and connect the dots, so no, I haven't made any big mistakes in my career.
How do you define success?
Success is when you have control over managing your time based on your values, priorities, and purpose. When you have the independence to manage your own time and decide how to spend it, that is considered freedom.
Who is your mentor or your inspiration and why?
Prof G, or Scott Galloway – his ability to simplify, explain complex concepts in the world of business, tech and marketing is unmatched. I have learned so many things in a short time from him because of the way he condenses and packages high-level information.
What are some activities you do to rally your team in difficult times ?
Meals together, off-sites, purpose workshops, walking meetings and work from a different place each day.
What rituals do you have to prevent burnout?
HIIT, yoga, spinning, dancing, singing, and listening to good music; scheduled time hanging out one-on-one with each of my three kids – they always keep things in perspective if I take myself or anything too seriously. Deep, meaningful conversations with friends over good food and drinks helps.
Lastly, what is a mantra or principle you live by and why is it important to you?
"When we know why we do what we do, everything falls into place. When we don't, we have to push things into place." Simon Sinek.
**
Join us as a Greater member for exclusive networking opportunities with our Greater leaders. Find out more about Greater.
Keen to find out more about the Greater community and our leaders? Read here.