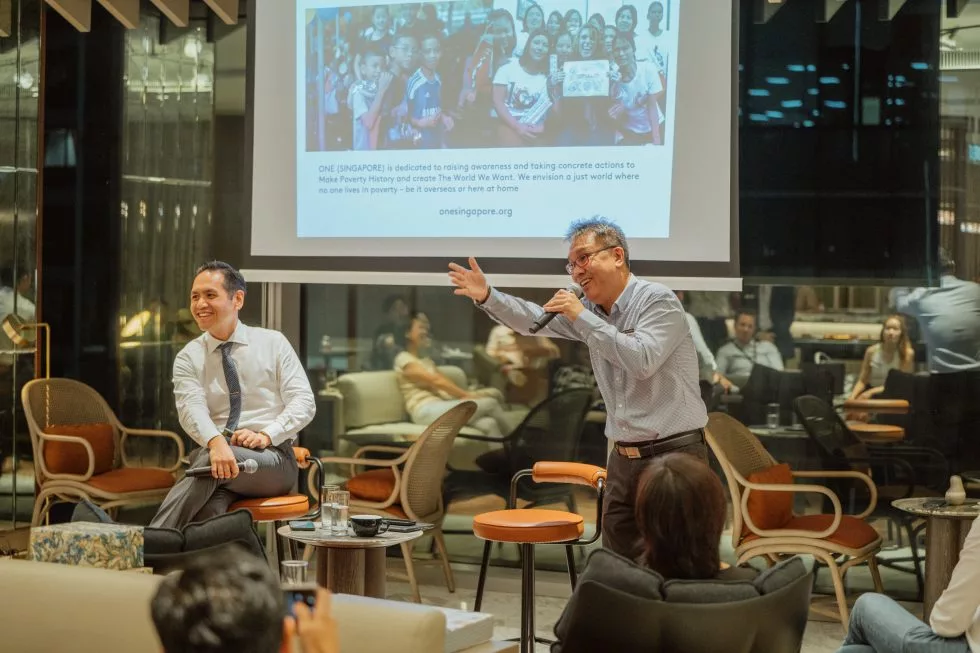 Kitson Leonard Lee, Head of the Centre of Non-Profit Leadership (CNPL), says being a board member of a charity is a long-term demonstration of your commitment.
"There is a big difference between being a volunteer and a board member of a charity," he adds.
For one, the board member has fiduciary duties mandated under the Charities Act, which require members to adhere to and ensure good governance for the charity. 
A charity board member is also required to attend board meetings minimally four times a year.
Kitson explored these points at CharityMatch, a Greater event held in conjunction with CNPL to matchmake Greater members with charities. 
Greater seeks to contribute to communities via its Greater Purpose, which is one of the four tenets that make up the Greater Club's offerings.
Held on 14 September, the event hosted charities such as Odyssey Dance Theatre, HCA Hospice, United World College South East Asia, ONE Singapore, as well as CNPL itself, who were present to network and scope out potential board members and volunteers.
Kitson delved into other realities that aspiring charity board members should be aware of.
Board members are legally bound to fulfil their fiduciary duties
Board members must comply with the Charities Act and Regulations, and act as an overseer of good governance practices.
These practices include exercising caution over management of funds and establishing procedures to maintain transparency and prevent conflict of interest.
If board members are found to have flouted these regulations, they could face fines or a jail term – a "staycation", as Kitson calls it.
You are also expected to serve for at least two to three years as a board member, depending on the terms of the charity, says Kitson.
On top of your role as a board member, you are also expected to be aware of what's happening on-the-ground efforts and other day-to-day operations. In other words, you need to be hands-on, and understand the needs of the charities' beneficiaries and clients, he adds.
On the other hand, being a volunteer requires a lot less commitment. You can volunteer as much or as little as you want, while contributing to the cause you feel most passionate about. 
If you feel ready to explore more responsibilities within the charity, but don't feel up for a commitment as a board member, you could also join the charity committee to get up-to-speed with day-to-day running of the organisation, notes Kitson.
"A committee provides deep insight into how charities run, without the legal requirements of being on the board," he says.

Why is leadership so important to charity boards
Boards make key decisions for charities, such as strategic direction, management of public donations and succession planning.
Having diverse views, with a diverse range of competencies and professionals on the board encourages more "robust discussions" with different points of views.
Challenging groupthink behaviours is essential to a charity's sustainability, reputation and financial solvency, as board members need to ensure a high level of prudence and transparency around the use of public funds.
"Boards need people to challenge a process and the charity's strategic intent, to make sure that there are checks and balances in place," he says.
Boards also discuss succession planning for charities, too. Leadership and management take a long-term view on the charity's sustainability. A board ensures that the charity is in good hands even as board members and leaders undergo renewal.
Lead with the social cause you are most passionate about
There are 2,300 registered charities in Singapore covering a wide range of causes, from environmental activism, to assisting the less privileged and the disabled, and lobbying for marginalised communities.
Kitson encourages those who are keen on board positions to go with what resonates with them the most. "You must be passionate about the cause," he says.
The next step is to join a charity of your choice to get a glimpse of their inner workings. If that proves fulfilling, you could take things further by joining the charity committee.
"As you join the committee, you get to know more people, and that's where you determine if there is chemistry with the people there," says Kitson. "You may be a passionate person, but the charity may not be a good fit for you," he adds.

Contribute your expertise 
There are many ways to contribute to a charity, be it through donations or through volunteering. But charities need specialised skill sets in order to grow and function as an organisation. 
Oftentimes, charity boards require members with corporate experience and expertise to scale. Members with corporate backgrounds can lend a sense of organisational structure, introduce best practices, and leverage their connections and networks for fundraising purposes.
"For example, if you are a lawyer, you can volunteer your legal expertise to the board. Or if you are an accountant, you can volunteer your auditing and finance expertise," says Kitson.
Ultimately, board members act as a steward and ambassador for the charity, he says. 
"They need to ensure that the donations that have been entrusted to them are well spent," he notes.
Be part of the Greater Purpose by joining our community-focused events.
Email us at talktous@thegreaterclub.com