Non-fungible tokens, or NFTs, have been described as a virtual wild west of sorts – it is brimming with radical potential and is a space for the highest artistic expression. It is also lawless and fraught with dishonest scammers looking to fleece unsuspecting users.
Despite scepticism from the mainstream, many high-profile businesses and celebrities have launched their own NFTs as a means to promote their own brands. Gucci, for instance, has already launched its second NFT project with digital artist SUPERPLASTICS.
The Greater dissected this digital phenomenon at its panel discussion NFT in Focus: The Explosive Potential, held on-premise at The Great Room.
Esteemed speakers and NFT experts who shared their insights at the event include:
George Galanakis (aka Radarboy3000), Founder of Crypto Art Week Asia

Hunn Wai, Founder & Director of Industrial & Meta Design

Bettina von Schlippe, Publisher of Vogue Singapore at IMV Indochine Media and Founder of

Brytehall

, an NFT gallery and artspace

Ning Chong, Founder of The Culture Story and moderator of the panel discussion
What on earth are NFTs?
Let's look at some basic definitions of NFTs before we dive in.
Forbes explains what NFTs are very well for the complete newbie below:
"An NFT is a digital asset that represents real-world objects like art, music, in-game items and videos. They are bought and sold online, frequently with cryptocurrency, and they are generally encoded with the same underlying software as many cryptos."
This digital asset ranges from digital art, music, unique domain names, collectibles and even real estate. NFTs trade on marketplaces, the biggest of which is Opensea.io.
In summary—what makes NFTs so special is that they are one of a kind. As they are bought and sold using a smart contract on a blockchain, the NFT cannot be duplicated or transferred. That means, the digital art you have just bought is the only one of its kind, and cannot be replicated elsewhere.
The same principle of buying and selling artwork in the real world applies virtually for NFTs. NFT enthusiasts buy them hoping to sell them off for a higher price to another buyer.
Others may only buy an NFT if it has a roadmap, which charts the NFT's long-term value strategy.
For instance, you can buy an NFT from an artist that pledges to donate 20 percent of revenue to a certain charitable cause once a certain milestone is reached. Women's Rise is an example of this.
NFT games have roadmaps, which may enable the trading and buying of game characters within the game ecosystem, once it reaches an optimal scale and amasses a large enough following.
NFTs can also be used to represent other physical items, such as real estate. Buyers who purchase real estate NFTs can stand to profit from rental income, or an increase in real estate values, through fractional ownership or entire asset tokenisation.
The NFT community gathers on Twitter or on Discord, exchanging ideas, information and insults, as with most virtual forums.
Investment bank Jeffries projects NFT market caps reaching US$35 billion by 2022, and US$80 billion in 2025. 
During the pandemic, it has helped artists branch out into the digital world, giving them a chance to pull through the pandemic financially. 
Digital art marketplaces like Brytehall aim to support creatives through crises, by "enabling business models that offer creatives a future", according to Bettina von Schlippe.
How do brands capitalise on NFTs?
Bettina von Schlippe established Brytehall as a digital venue for creatives to showcase their works. Luxury brands often collaborate with digital artists to launch NFT pieces, and galleries like Brytehall help to facilitate these launches. 
In essence, NFTS are a novel way for brands to market themselves through community engagement, through the 
creation and sale of digital assets to their customers and their broader markets. 
As Bettina von Schlippe puts it, it's all about connecting with the right people, who are also excited about the content that she is curating.
However, such a concept applies mainly to brands that have already established their own fanbase.
For instance, if you are a celebrity with a large Twitter following like Gary Vee or Steve Aoki, you will find it a lot easier to sell your NFTs. Trust is paramount for NFTs, which is an unregulated space. 
At the same time, NFT sellers need to deliver on their end, whether it is meeting milestones on their roadmap or simply granting access to the digital asset. Not doing so may harm your brand reputation and turn your fan base against you.
"Basically, you need to start treating your customers like actual human beings," says Hunn Wai.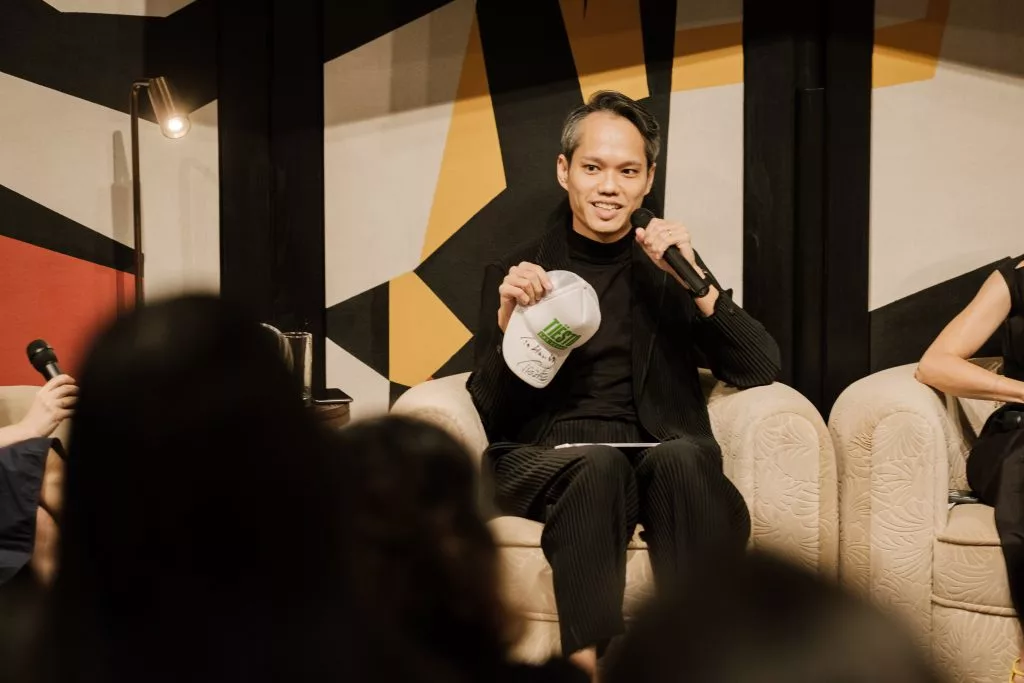 That said, brands have to think about what creative ways they want to engage their fanbase, says Hunn Wai. If you are a famous musician who wants to engage their fans, for instance, you could sell NFTs that are not just artworks created by you, but are part of a roadmap that allows exclusive backstage access or VIP events.
But how do total newbies use NFTs to promote their brand? 
Bettina von Schlippe says that while there are many use cases, a fairly straightforward way to integrate NFTs is to use it as a certificate of authenticity, as it involves the use of smart contracts.
"If we speak about luxury business, NFTs are the key to prove that you have produced a product, or as proof of its origins, so customers can track it," she says. The same concept applies to second hand goods and real estate, where NFTs can be used to track the assets' ownership.
Brands could use NFTs for good, too, as a way to spice up their social responsibility efforts. Amid the Russian invasion of Ukraine, Vogue Singapore and Vogue Ukraine launched Fashion for Peace NFTs, which feature works from six Ukrainian artists, to help raise funds for humanitarian aid.
Will NFTs ever go mainstream?
It will take some time for NFTs to be seamlessly integrated into daily lives, says Galanakis. 
"The technology is not ready yet for mainstream adoption. And I don't think we should be thinking like that. We're still in the super, super early days. Think of the internet in 1999. That's kind of where we are," he says.
Furthermore, the Metaverse, where many NFT projects are hosted, looks "clunky" and "low-res" for now. "It looks very amateurish," says Hunn Wai. Metaverse will need supercomputers to power realistic 3D graphics and visuals in real time, he adds.
These technical obstacles will resolve themselves in due course, says Galanakis, as the technology that powers NFTs and the Metaverse will evolve.
For now, the NFT space is largely unregulated. It is also rife with scams, and there isn't any law or regulation that penalises these scammers.
Some governance that protects users could do the NFT space some good, and push it closer to mainstream adoption, say the experts. 
The barriers of entry into the NFT space need to be abolished – using Fiat currencies, instead of cryptocurrencies stored in specially set up digital wallets, could be one way of doing it, says Bettina von Schlippe. 
It also seems that the NFT world is already gaining widespread acceptance. 
Singapore, for instance, is already mulling the limitless potential of NFTs, with finance minister Lawrence Wong confirming plans to tax NFT income. The move is a huge step into legitimising NFT as an asset, and paves the way for NFT's mainstream adoption.
**
Loved what you read so far? We have more expert insights and tips on trending topics and current affairs for our Greater community. Find out more about our programmes and offerings via thegreaterclub.co