The world is increasingly aware of its roles in reversing the effects of climate change.  
With Environmental, Social, and Corporate Governance (ESG) reporting going mainstream among corporations, companies require some assistance in making sure they are meeting their ESG targets. 
That's where tech startup Equilibrium comes in. It offers artificial intelligence and data analytics solutions to help companies map out their ESG strategies in order to meet their goals. 
Quentin Fouesnant joined Equilibrium as the Head of Sales for Asia in 2021 to lead business expansions in the region.  
"A big part of my role is focused on engaging with large companies to identify where they are on their sustainability journey and how we can help them get to the next stage," says Fouesnant, who moved to Singapore in 2011 for a regional sales role in General Electric. 
He believes great leadership comes from inspiring your teams with a vision that connects with them emotionally.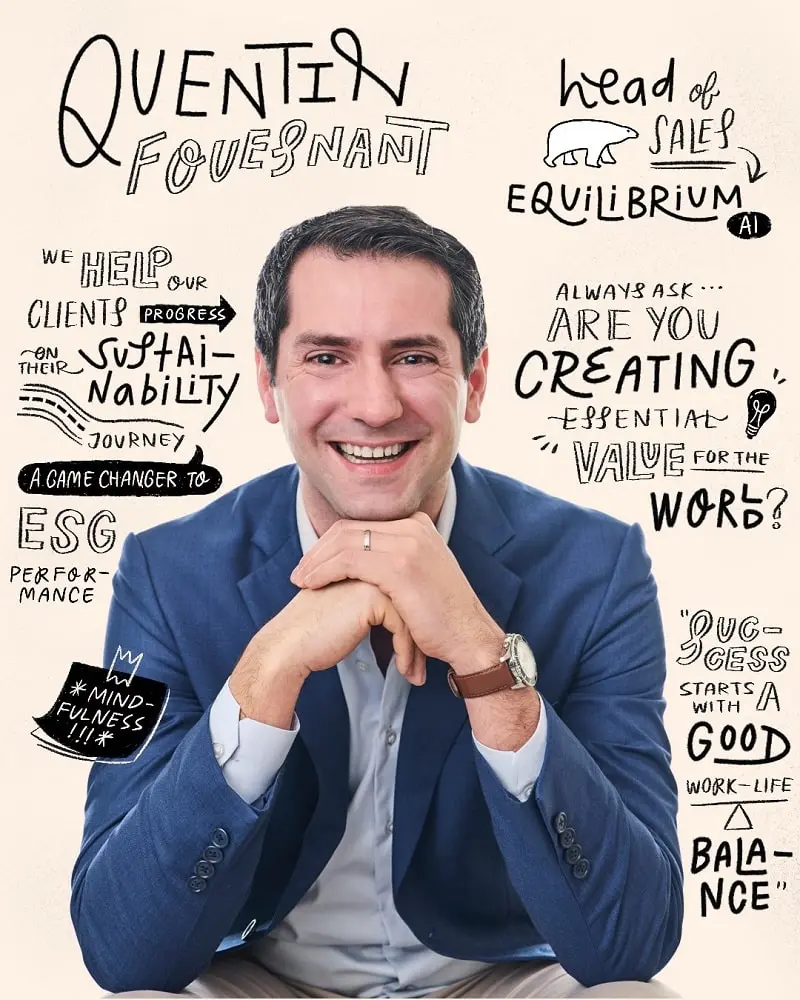 "If you want a whole company to follow you, you need to rally it towards a common goal and you need to be able to communicate that in a way that resonates with them," says Fouesnant. 
"Truly great leaders are also empathetic. They have an open mind so that they can understand the people they are leading, their motivations and their hopes," he adds. 
Fouesnant talks to Greater about leading his team in the charge against climate change. 
Tell me about Equilibrium and how it seeks to improve the status quo? 
We're in a climate crisis. "Business as usual" is no longer an option. Globally, governments and corporations are now (finally!) looking at building sustainable businesses that have a positive or at least neutral impact on the environment. 
Equilibrium is a tech company that helps businesses measure and improve their impact on the planet and society. We bring a software platform and our team of experts to the table, so we can help you on your sustainability journey.  
How has Covid-19 impacted your company, and what measures did you take to rise above the crisis? 
The company was built throughout the Covid crisis so we organised ourselves to operate remotely from the start. All of the team members joined at a time where face-to-face interactions were limited and it proved challenging for new hires, including myself. 
Building relationships with colleagues without in-person interactions requires more effort but our staff has shown great resilience in adapting to the new normal. 
What is the biggest takeaway from your experience with the pandemic? 
The pandemic was an opportunity to reflect, review, rethink and reinvent businesses and careers. No matter how challenging a situation, there are always opportunities that lie within. 
Our choice of words and what we say to ourselves matter. For example, looking at obstacles as opportunities, our mental state and course of action. My wife taught me all this! 
What is the biggest mistake you've made in your career and what have you learned from it? 
If I were to go back in time and do one thing differently, I would have joined a start-up sooner in my career. I enjoy building from scratch and I thrive the most in an environment where everything is yet to be created. 
How do you define success? 
For me, success starts with a good work-life balance and feeling energised both at home and the office. 
Financial independence is important but I no longer see wealth as the main measure of success. To me, creating essential value in this world is more important. 
What are some plans for Equilibrium going forward? Can you share some examples? 
We are increasing our market reach, hiring many people and deploying more projects with enterprise clients. We have also several thought leadership events planned throughout the year including a roundtable on ESG integration. 
What are some activities you do to rally your team in difficult times? 
We make sure that we fight the Zoom fatigue by having regular meet-ups with the team. Whether it's working in the same office for the day or having a meal together, we feel it is very important to get some face-to-face time on a regular basis.  
What rituals do you have to prevent burnout? 
Speaking of rituals, I started to go to "Ritual Gym" to work out. I really like their 30 min in-and -out concept that allows me to get a healthy but quick break during the day. 
Mindfulness has also been very helpful in managing stress. It keeps me centred and helps me identify my thoughts and emotions more accurately so that I can consciously decide how to react in difficult situations. 
**
Join us as a Greater member for exclusive networking opportunities with our Greater leaders. Find out more about Greater.
Keen to find out more about the Greater community and our leaders? Read here.