The quest for Greater is not one that can be embarked on alone
Our members are actively part of a community that's learning and unlearning, inspiring and driving conversations through talks, workshops, panels and discussions.
We've curated best-in-class leadership and network programmes to develop skills and capabilities, building individual, team and community capacities towards strategic business outcomes.
The Greater calendar will be packed full throughout the months. Expect cerebral insights, fresh perspectives, expert workshops on the weekdays, powerful and intimate social networking opportunities throughout the week, and even community-centred days out on the weekends. Greater's curated programming inspires and activates, nurtures and develops, challenges and incites.
Peaked your interest? Keep up-to-date on our upcoming events by joining the mailing list. 
Our programme at a glance: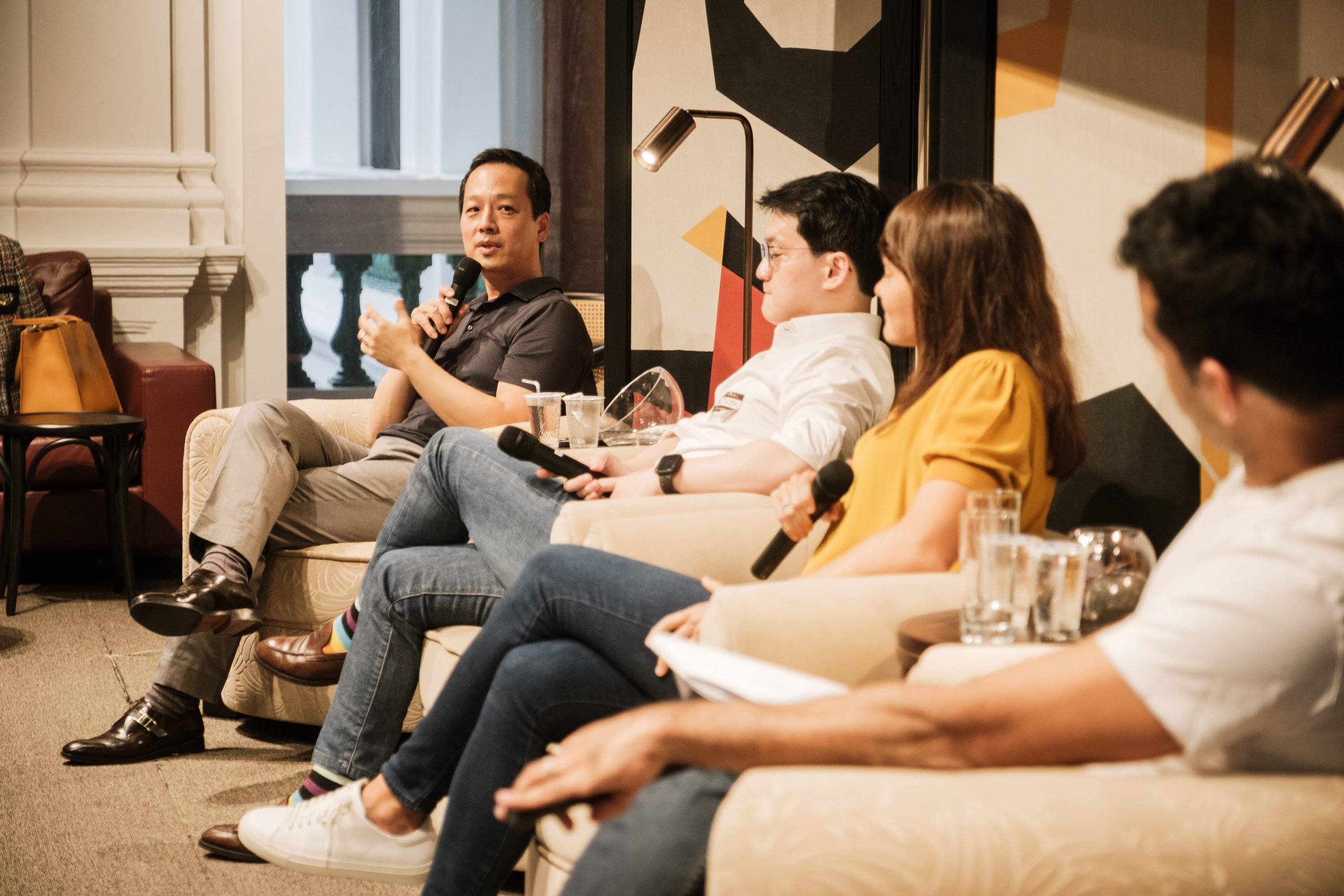 Expert and peer-led seminars, workshops and discussions to impart strategic know-how and build individual and team skills and capabilities, and to share cross-cutting knowledge on global affairs and and topical issues
A unique-to-Greater learning curriculum for supporting career and life ambitions through coaching and assessing individual skills, setting goals, power-charging knowledge and amping up soft skills toolkits; as well as giving back to the community through service and mentorship
Day-to-night business networking and access to the Greater Forum, a close-knit, personalised communion of fellow professionals; immersive and lifestyle events through Greater Life, for connections beyond the workplace
Experiences and conversations both intimate and large-scale, to hear about and learn from fresh and authentic perspectives, abundant and wisdom-filled life experiences, and inside scoop, towards inspiring broader thinking and igniting action
You can expect over 50 digital and physical events around these four programme pillars, access to world-renowned speakers and experts, a calendar of immersive networking socials, and more. Come late 2022, Greater will also have a digital library with hundreds of hours of content, an online, in-the-cloud extension of all our real-life conversations happening at The Great Room, so our members can learn and grow any time, anywhere.
Greater Conversations at William Grant & Sons
Invite Only: Greater Purpose Committee Meeting
Personal Development - Community
CharityMatch: Connecting and Supporting Non-Profits
Invite Only: Convene of the Greater Leaders
Network Development - Greater Life
Greater X Leica Photowalk: Re-discover Gardens by the Bay
Active Leadership - Inside Scoop
The State of Digital in Q3 2022
SPARK Resilience: Thriving in Tough Times
A Great Day Summer Soirée
Active Leadership - Inside Scoop
Creating a Sustainable Food Future
Active Leadership - Inside Scoop
IxSA General Assembly 2022 Supported by Greater
[Members Only] Greater Conversations with Diageo II
Active Leadership - Inside Scoop
ESG Strategy for Sustainability
Active Leadership - Inside Scoop
Psychedelics: A New Frontier for Mental Health Treatments
[Full] Greater Conversations with Diageo I
Active Leadership - Inside Scoop
The Future of Human Civilisation
Active Leadership - Inside Scoop
Digital Ecological: Designing for The Future of Our Planet
Active Leadership - Inside Scoop
Digital Trends: The World At 5 Billion Internet Users
Personal Development - Coaching Performance
Leadership Audit: Building Your Influence with SoundWave
[Members Only] Whisky Wonder: The Macallan Experience
Active Leadership - Inside Scoop
Official Launch: A Greater Beginning
Active Leadership - Inside Scoop
NFT in Focus: The Explosive Potential
Active Leadership - Masterminds
When Your Customer is Everyone: Lessons from Building Technology for Public Good
Active Leadership - Inside Scoop
Inside Scoop on the Guerrilla Digital Campaign of President Jokowi
Inspirational - Greater Minds
In Conversation with James C. Rhee: Systems Entrepreneurship and the red helicopter
Active Leadership - Inside Scoop
Digital 2022: The Global State of Digital
Active Leadership - Masterminds
Extreme Creativity: How to Develop Your Purest Ideas into a Sellable Product
Active Leadership - Inside Scoop
In Conversation with Paul Dupius: Inspire Your Team to Bring Their A-game Everyday
Will you evolve into the Greater version of yourself with us?

We spark ideas and generate opportunities, and at our core is the belief that connections and community make us Greater Together, paving the way towards the next-generation of doing business. Greater is for the passionate entrepreneur, investor, creative, problem-solver, business leader, activist, policy-maker, and society leader in all of us.
Read about our other pillars
Greater believes that connection is crucial — we seek to build lasting relationships within members, and at the same time embed ourselves within our wider, local communities, building positive impact.
Home to members across APAC, The Great Room shared spaces encourage productivity and collaboration. It is designed to be a home away from home, and office away from office.