The seed for Greater was sowed in The Great Room, which came to be to meet the need for a more holistic space to do business. But a physical space alone wouldn't answer the calls of an audience hungry for knowledge and meaningful connections. Greater was born to be more than a business club, bringing leaders together to grow personally and professionally.
At Greater, you'll find people who have something innately different—some call it a spark. A creative who sees the little things that most miss, an entrepreneur breaking new ground in their industry, a seasoned professional looking to stay on top of their game, a curious problem-solver. (You know what they say: Great minds never think alike.)
The Greater membership club was launched in April 2022. At our launch event, we showcased what it means to be a part of the Greater community – a place where you learn and grow alongside business leaders, industry experts and pioneers.
From social advocacy to green architecture, we delved into the trends that are shaping the future world view.
Read our event key takeaways
If this sounds like the home you've been looking for, join us: your story is still waiting to be written.
Interested to know what Greater has to offer and how you may benefit from our programmes and offerings?
Have a chat with our general manager to find out if Greater is the right community for you!
Prior to joining Greater, Perng was the marketing and events director at Textile and Fashion Federation (TaFF) a non-profit trade association.
Member Services Executive
Aqilah is an Arts Management graduate from LASALLE College of the Arts.Her interest lies in being creative with an expertise in the arts industry.
Driven by Performance, Purpose & Play. We facilitate an eco-system of learning, collaboration, connection, and giving back.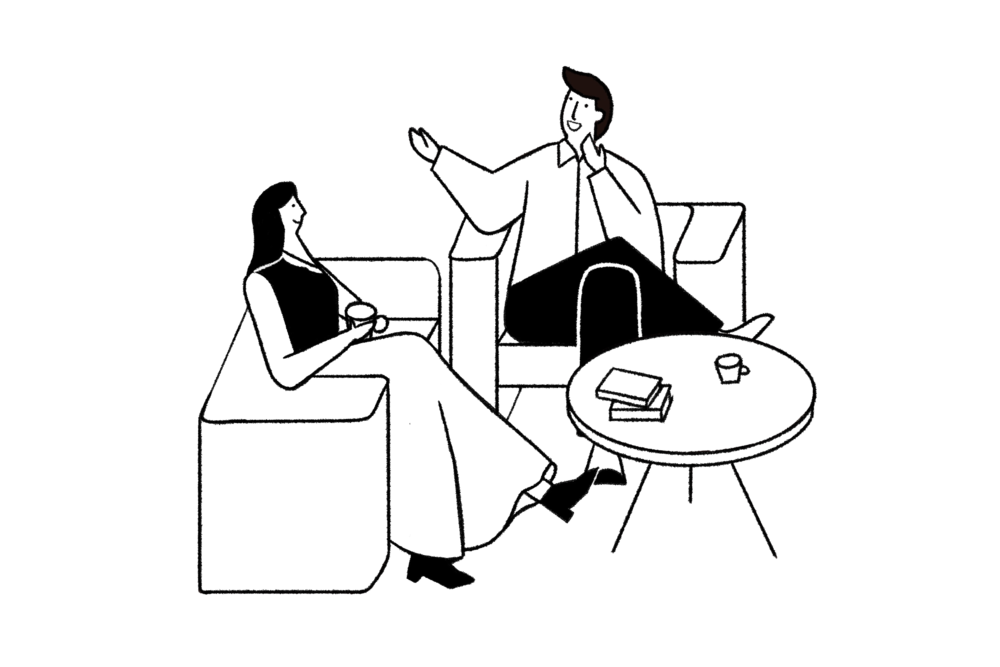 Across 8 locations in Singapore, Hong Kong and Bangkok, access The Great Room's work social spaces that inspire. We are your office away from office.
Perng Aw is the General Manager and oversees the development and launch of Greater, an affiliate of The Great Room.
Prior to joining Greater, Perng was the marketing and events director at Textile and Fashion Federation (TaFF) a non-profit trade association that actively works to develop the fashion industry, positioning Singapore as an innovative fashion hub in Southeast Asia.
Perng's earlier roles include leading a non-profit social enterprise called Creating Responsible Innovative Businesses (CRIB) with over 300 women entrepreneurs in the community as the Executive Director, now turned Advisor, and the Operations Director of Women In Tech SG.
Before starting her career in the non-profit sector, Perng was previously in the finance, fashion, and real estate industry.
Perng holds a Bachelor's degree in economics from the University of Washington and a Fashion Marketing degree from Parsons. She has 15 years' experience in business development, driving productivity through building partnerships and maintaining client relationships. Perng's passion is to make an impact through her work by helping others rise to their potential in their professional or personal goals.
As membership manager, Benjamin aspires to build purposeful relationships among members of The Greater Club to achieve their full potential both professionally and personally.
Prior to joining TGC, Ben was executive director of PM Haze where he developed nature based solutions in Indonesia, spearheaded advocacy campaigns and fund-raised for the charity that aims to prevent transboundary haze in the Southeast Asian region.
Ben's previous experiences include leading community research and partnerships at the National Volunteer and Philanthropy Centre. He coordinated student development programmes at Singapore Institute of Management and managed cultural exchange programmes at the Singapore International Foundation.
Outside of work, Ben is an avid cyclist and enjoys gran fondos as much as ripping local trails. His love for cycling started as a child and dreams to bikepack the Great Divide one day.
Aqilah is an Arts Management graduate from LASALLE College of the Arts. Her last project was Muara Festival 2020, Singapore's largest Malay dance festival which she aided in marketing and programmes. With a strong focus on personal and professional development, she strives to connect like-minded individuals towards achieving greater success.
Her interest lies in being creative with an expertise in the arts industry. As a Protagonist (ENFJ), (think Oprah Winfrey!) she is thoughtful and idealistic. Her lifetime goal is to have a positive impact on people and the world.
Apart from having a sweet-tooth who enjoys hunting down trendy and obscure dessert places in Singapore, Aqilah is an adrenaline junkie at heart. Her checklist includes aerobatic flights, sky-diving, bungy-jumping and swimming with dolphins in their natural habitat.
As marketing and events manager, Yifan aspires to deliver the best possible in-person and digital experience for all members of the Greater Club.
Prior to joining Greater, Yifan was the deputy general manager of Fun Union Limited, a start-up producing and distributing entertaining and educational animations for young children. She was responsible for marketing and distributing the animation series in the China market. Before stepping into the start-up world, Yifan worked in Lane Crawford, one of Asia's leading luxury retail stores, responsible for campaigns, events and content marketing.
Yifan holds a Bachelor's degree in journalism from Hong Kong Baptist University and a Master's degree in advertising from The Chinese University of Hong Kong. She lived in Hong Kong for 14 years before relocating to Singapore during the pandemic.
#FunFacts: Yifan is a Chinese ethnic music fan, and she plays Guzheng. Moreover, she is also a wake-surfing amateur on the way to mastering her first Ollie trick!
As the Greater Club's Senior Events Executive, Khairul makes the magic happen. He is responsible for the planning and execution of the Greater Club's renowned events. He brings his thoughtful curation and eye for detail to the table, to ensure an insightful yet fun and interactive session for event attendees and speakers alike.
Khairul is a Digital Media Design graduate from the Nanyang Academy of Fine Arts. Before joining the Greater Club, Khairul spearheaded the 8th Singapore-China Forum on Leadership, a large-scale event involving VVIPs and ministerial delegates from both countries. With a healthy dose of tenacity, he pulled off the massive amounts of planning, logistics and audio-visual setups for the three-day event.
Khairul describes himself as determined, passionate, and a real problem-solver. He is also a dedicated husband and father, who relishes every moment with his wife and young daughter.
#FunFacts: Khairul enjoys a good steak and is an avid longboarder and mountain biker.